ตะกร้าสินค้าของคุณว่างเปล่า!
ไปรษณีย์ไทย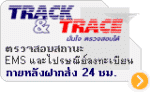 RS232 to LAN modem
รหัสสินค้า:
USR-TCP232-200
สถานะสินค้า:
มีสินค้า
ราคา:
850.00บาท
ไม่รวมภาษี: 850.00บาท
USR-TCP232-200 Ethernet to serial converter is an Equipment for convert TCP or UDP socket data to RS232 or RS485. Easy to use, low price, low power, 32 bits ARM on board, high speed , high Stability.
This is a multi-functional embedded Ethernet to serial data conversion device that integrates a TCP/IP protocol stack, the user can easily use it to network functionality of embedded devices, upgrade the existing serial devices into a network function, saving human and material resources and development time, make the product faster to market, enhance their competitiveness.
There is 10/100M auto detected RJ45 interface, RS232 bound rate up to 230.4Kbps, can work at TCP Server, TCP Client, UDP client and UDP server mode, setup easily via software.
10/100M auto detect interface;
support AUTO MDI/MDIX, Can use a crossover cable or parallel cable connection;
Work mode TCP Server, TCP Client, UDP, UDP Server;
Working model related parameters can be set via a serial port or network;
5 V RS232 level ;
Virtual serial port supported;
Unique heartbeat package mechanism to ensure that the connection is reliable, put an end to connect feign death;
Under UDP mode, Packet Broadcast is prohibited, with stronger anti-interference ability;
across the gateway, across switches, routers;
Can work in LAN, also can work on the Internet (external network);
Transmission distance: RS232 - 15 meters;
32 bits ARM CPU inside;
LAN : 10/100Mbps; protect: Built-2KV isolated electromagnetic;
serial port baud rate: from 300 to 230400bps can be set up, and up to 3 MBPS;
network protocol: ETHERNET ARP IP UDP TCP ICMP;
Software tool: configuration software, TCP/UDP test soft, RS232 debug soft;
Configuration method: RS232 or via Ethernet, free software available;
Power Supply:DC 5V
Serial port level:RS232
Network interface:RJ45 ports with 2KV electromagnetic isolation
Product size: 71×60×25mm(L*W*H)
Operating temperature: -25 to 75 °C
Storage temperature: -40 to 80 °C
Storage humidity: 5% to 95% RH
Product Certificates
​ Application Software
​User Manual
​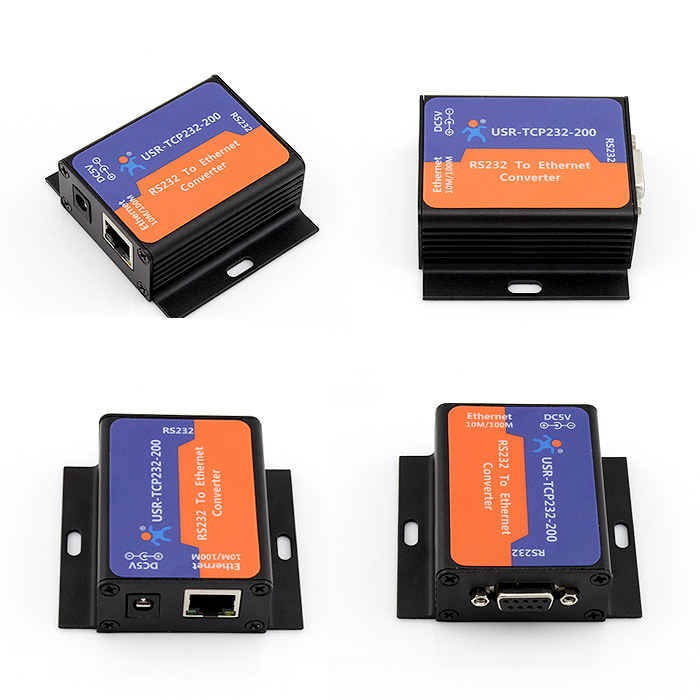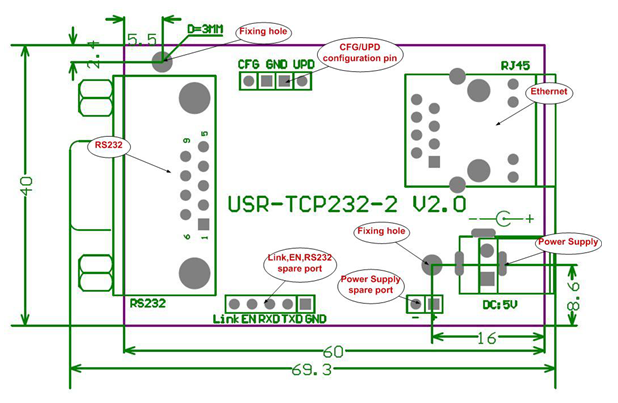 เขียนข้อคิดเห็น
ชื่อของคุณ:
ความคิดเห็น:
หมายเหตุ:

ไม่รองรับข้อความที่มีรูปแบบ เช่น HTML!
ให้คะแนน:
แย่
ดี
พิมพ์รหัสป้องกันสแปม: